Products
THE BABY BOOMER'S HANDBOOK FOR WOMEN
Edited by Linda Ellis Eastman
Founder of The Professional Woman Network

Sathedia is one of the featured international authors in this important book about successful aging.

Fifty consultants, seminar leaders, and life coaches share powerful information about self-acceptance, confidence building, and creating the life you want.



Discover:

How to Deal with Stress & Anxiety – Getting Over Getting Older – Lessons from Our Mothers – Overcoming the False Self Syndrome – Looking Terrific at Any Age – Dating After Divorce – Facing Fears– Money Savvy & Accumulating Wealth – The Power of Hope – Creative Aging – Social Etiquette & More . . . . This powerful value-packed book was designed for the demanding generation of Baby Boomers. It is an absolute MUST for all baby boomers!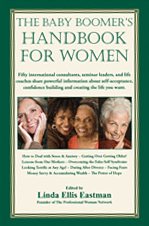 $19.95





Click here to visit the entire PWN book series.
http://www.pwnbooks.com/